What is disk encryption?
Disk encryption "scrambles" the contents of a computer's hard drive, making the files unreadable by unauthorized users. A "key" is used during the encryption process, and the correct key is required to decrypt the contents again and make it readable.
The strength of the encryption depends on the encryption method used, and the length of the key.
Why you need disk encryption software
Laptops are easily lost or stolen. That means that sensitive or proprietary information, such as customer data, can fall into the wrong hands. Disk encryption prevents the entire contents of the computer's hard drive from being accessed by preventing even your OS from accessing the data prior to a proper password being entered. This not only prevents against hard drive removal, but also by malicious applications that can bypass a OS login screen.
Disk encryption is especially important in industries such as healthcare. Data breaches have exposed thousands of patient records because unencrypted data was stored on a lost or stolen laptop or other computer.
How ESET disk encryption works

Full-disk encryption
DESlock Encryption by ESET delivers FIPS 140-2 Validated 256 bit AES encryption for assured security.

Remotely wipe or lock computers
In the case of employee termination or the loss of a device, remotely wipe or lock a device to keep your data safe.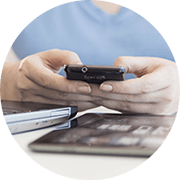 Protects mobile workforce
Keep confidential data on laptops protected even when employees are working at home or on the road with no network changes required.
Encrypting sensitive data before it's stored or emailed makes good financial sense -- because in the event of a data breach, the average cost incurred for each lost or stolen record containing sensitive and confidential information is $158.
2016 Ponemon Cost of Data Breach Study