ESET Endpoint Security for Windows

Multilayered approach balances performance, detection and false positives. Enables organizations to:


Protect against ransomware








Detect advanced persistent threats
---
Remote network management
ESET Security Management Center manages endpoint products, including ESET Endpoint Antivirus for Linux, from a single pane of glass and can be installed on Windows or Linux. As an alternative to on-premise server installation, customers with up to 250 seats can opt for ESET Cloud Administrator.
Machine learning
All ESET Endpoint products currently use machine learning in conjunction with all of our other layers of defense and have done so since 1997. Specifically, machine learning is used in the form of consolidated output and neural networks. For a deep inspection of the network, admins can turn on the special aggressive machine learning mode that works even without internet connection.
Multilayered defense
A single layer of defense isn't sufficient in today's constantly evolving threat landscape. All ESET endpoint products have the ability to detect malware pre-execution, during execution and post-execution. By focusing on the entire malware lifecycle, ESET provides the highest level of protection possible.
Use cases
PROBLEM
Some businesses want extra protection from ransomware attacks.
SOLUTION

Network Attack Protection has the ability to prevent ransomware from ever infecting a system by stopping exploits at the network level.
Our multilayered defense features an in-product sandbox with the ability to detect malware that attempts to evade detection by using obfuscation.
Leverage ESET's cloud malware protection system, LiveGrid®, to automatically protect against new threats without having to wait for the next detection update.
All products contain protection in the form of Ransomware Shield to ensure that businesses are protected from malicious file encryption.


Protected by ESET since 2011.


Protected by ESET since 2016.
The ESET difference
Behavioral Detection - HIPS
ESET's Host-based Intrusion Prevention System (HIPS) monitors system activity and uses a pre-defined set of rules to recognize and stop suspicious system behavior.
Ransomware Shield
Monitors and evaluates all executed applications based on their behavior and reputation. Designed to detect and block processes that resemble the behavior of ransomware.
Network Attack Protection
ESET Network Attack Protection improves detection of known vulnerabilities on the network level. It constitutes another important layer of protection against spreading malware, network-conducted attacks, and exploitation of vulnerabilities for which a patch has not yet been released or deployed.
Advanced Memory Scanner
A unique ESET technology which effectively addresses an important issue of modern malware—heavy use of obfuscation and/or encryption. Advanced Memory Scanner monitors the behavior of a malicious process and scans it once it decloaks in memory.
In-product sandbox
ESET's In-product sandbox assists in identifying the real behavior hidden underneath the surface of obfuscated malware. Utilizing this technology, ESET solutions emulate different components of computer hardware and software to execute a suspicious sample in an isolated virtualized environment.
Exploit Blocker
ESET Exploit Blocker monitors typically exploitable applications (browsers, document readers, email clients, Flash, Java, and more) and instead of just aiming at particular CVE identifiers, it focuses on exploitation techniques. When triggered, the threat is blocked immediately on the machine.
Two-way firewall
Prevents unauthorized access to the company network. It provides anti-hacker protection, data exposure prevention, and enables defining trusted networks—making all other connections, such as to public Wi-Fi, restricted by default.
Botnet Protection
ESET Botnet Protection detects malicious communication used by botnets, and at the same time identifies the offending processes. Any detected malicious communication is blocked and reported to the user. ESET #1 in AV Comparatives Performance test in May 2019.


ESET achieved highest score in SE Labs test in Q1 2019. ESET Endpoint Security named best business antivirus for MacOS.


ESET ranked highest by final score in VBSpam test in June 2019.
ESET ENDPOINT SECURITY
FOR WINDOWS
Purchase this product as a bundle component of ESET Endpoint Protection Advanced at the same price as the individual product.
Free business trial
Try before you buy
Experience ESET products including ESET Full Disk Encryption for 30 days with a free trial, to make sure they suit your needs. All you need is ESET Business Account.
ESET Endpoint Protection Platform also covers the following OSes:
Looking for additional solutions?
Related enterprise-grade solutions


Security Management Center
Endpoint Protection Platform
Cloud Sandbox Analysis


Security Management Center
Endpoint Protection Platform
Cloud Sandbox Analysis
Endpoint Detection & Response
Related products and services
Based on customer reviews, through G2 Crowd surveys, that asked ESET business customers to rate their experiences using ESET Endpoint Security.
---
---


"Spend less time removing infections from endpoints by not getting them to begin with."

---
Stay on top of cybersecurity news
Brought to you by respected security researchers from ESET's 13 global R&D centers.
Corporate blog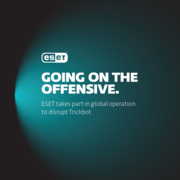 Every time a critical piece of botnet infrastructure is "shot down," thousands of machines are liberated from oppression by their cruel botnet masters.
Webinars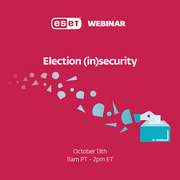 Tuesday, Oct 13, 2020
As the countdown to the U.S. presidential election continues, concerns about cybersecurity are on the rise.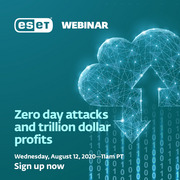 Wednesday, Aug 12, 2020
Learn about the latest advanced cyberattacks and effective defenses.