Save 20% off ESET PROTECT Advanced
All-around protection of business endpoints, data and network.

Secure your
familyhouseholddatasecretsdevicespayments
with trusted ESET technology
Secured online shopping, protected webcam streaming, online calls, parental control and more. Enjoy the peace of mind thanks to ESET Internet Security's sophisticated online protection, whether at home or on the road.
No credit card required

What home users appreciate on ESET
"Works perfectly and has done for years. Extremely efficient and with minimal impact on the functionality of the machine it's installed on."
Light on resources
Never had an issue
No interruptions

What business users appreciate on ESET
"Sleek interface and works as expected every time. All policies and remote administration is straightforward and thoroughly documented if there are questions."

Minimal system footprint
Excellent malware accuracy
Easy deployment and management
Join over 110 million users worldwide and enjoy safer technology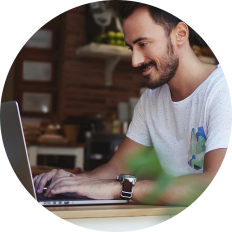 POPULAR

Protect your passwords and data
Your sensitive data, online payments, passwords, smart home devices and webcam... all those and more are secured with ESET Internet Security.
No credit card required
Trusted by businesses throughout the world
From small businesses to enterprise operations, companies are in safe hands with ESET.








A legend at the core
Proven over 30 years, our award-winning NOD32 technology powers all our products.



ESET protects you across multiple platforms
It's about balance… the perfect balance
Providing speed, detection or usability is not enough. You need all three to have a smooth, enjoyable online journey.
Speed
Built to keep you running fast, with no interruptions.
Detection
Blocks and eliminates even the most advanced threats.
Usability
Provides set and forget protection you can install in minutes.