ESET Threat Hunting Service

ESET Threat Hunting service, available only in conjunction with ESET's EDR, Enterprise Inspector, helps investigate a specific set of data, events and alarms generated by ESET Enterprise Inspector.
---
Why use a threat hunting service?


Lack of manpower
Many organizations would like to implement an EDR solution, but lack the resources required. It can take months to hire and train a team to implement and monitor EDR technology.


Initial learning curve
While ESET products in general are designed to be intuitive to use, without dedicated ESET professionals customers could be missing out on many game-changing advanced features.


Lack of expertise
Keeping up with the rapidly changing cyberthreat landscape can be challenging for a company. Using ESET as a trusted source of information is easier and much more effective.


Long-term costs
Setting up dedicated teams and/or hiring specialists to perform niche tasks can incur high long-term costs and create unnecessary management and personnel complications.


protected by ESET since 2011
license prolonged 3x, enlarged 2x


protected by ESET since 2008
license prolonged/enlarged 10x


protected by ESET since 2016
more than 14,000 endpoints


ISP security partner since 2008
2 milion customer base
Benefit from the following features
On-demand service
Organizations can contact ESET Threat Hunting operators when service is required.
Subscription-based
Organizations purchase ESET Threat Hunting service in time blocks during which the customer can request assistance.
Secure data exchange
All threat and organization data stay only on premise as a secure connection is set up between ESET and the organization (VPN).
Root cause analysis
ESET Threat Hunting operators review highlighted alarms and investigate their root cause.
Actionable advice analysis
ESET operators review alarms and compile their findings into a comprehensive status report as well as providing actionable advice to the organization.
Explore our customized solutions
Please leave us your contact details so we can design a personalized offer to fit your requirements.
No commitment.
Looking for additional solutions?
Related enterprise-grade solutions


Security Management Center
Endpoint Protection Platform
Cloud Sandbox Analysis
Endpoint Detection & Response
Related products and services
ESET Endpoint Security
Award-winning multilayered technology combining machine learning, big data and human expertise.
ESET Enterprise Inspector
EDR tool detects APTs, targeted attacks, fileless attacks; provides risk assessment and forensic investigation.
ESET Threat Monitoring
On-demand threat investigation, root cause analysis and remediation advice.
Stay on top of cybersecurity news
Brought to you by respected security researchers from ESET's 13 global R&D centers.
Corporate blog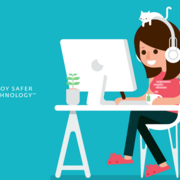 If the coronavirus has you working from home for the next few weeks, don't forget about cybersecurity best practices that can help defend against a cyberattack.
Webinars
Tuesday, Mar. 24, 2020
Join ESET experts to hear about the challenges posed by a remote workforce; steps to ensure security and productivity; and specific IT solutions.
Wednesday, January 29, 2020
Can you spot the differences between fake and real content? What about your employees?
We Live Security blog
What COVID-19 may mean for privacy rights – Managing supply-chain risks – Two Windows zero-days remain unpatched
If we can't secure the supply chain, eventually everything else will break